Too many people find social housing provides 'No Place Like Home'
We are delighted to finally be publishing our research into the provision of furnished tenancies today, which reveals that only 2% of social rented properties are let as furnished or partly furnished (i.e. floor coverings/curtains) in comparison to 29% of private rented properties.
These figures, (from Understanding Society data, an annual UK survey of 40,000 households), also show that just 1% of social rented properties are fully furnished.
Our report, 'No Place Like Home', explores why there are so few furnished tenancies in the social housing sector. It includes in-depth interviews with social housing professionals to hear their views on furnished tenancies and to understand the barriers to creating them, and with tenants to find out from them what impact furniture provision, or the lack of it, can have on their lives.
Claire Donovan, Campaigns Manager for End Furniture Poverty, said: "At End Furniture Poverty, we have long believed that furnished tenancies can provide a comprehensive solution to furniture poverty for some people, primarily those in receipt of housing benefit, as the cost of a furniture package is eligible to be covered by the service charge element.
"While we understand that social landlords face many challenges and that they work tirelessly to support their tenants, we have produced this report to help us to better understand how we can help them to extend that support and create furnished tenancy schemes."
We are very grateful to The Rt Revd Dr David Walker, Bishop of Manchester and Chair of Wythenshawe Housing Group, for providing the foreword for the report. He said: "This timely and well researched report suggests one way in which social landlords can make a difference.
"The fact that some 29% of private tenancies are fully or partly furnished, compared with only 2% of social tenancies, should be in itself a clear indicator that we in the social housing sector are failing to tailor the services and products we offer to the needs of the types of households we are set up to serve.
"I commend it to senior executives, front line workers, and board members in social housing, and hope that together we can make an impact to reduce furniture poverty from the blight it is on so many lives.
The latest poverty figures in the report show that 49% of social housing tenants are living in poverty, and 63% of social renters are living below the minimum income standard, compared with 46.9% in the private rental sector. These figures are pre-Covid so the expectation is that the need for support is now even greater and the numbers of people living in furniture poverty is even higher.
The current lack of furnished tenancies in the social housing sector means that for those fleeing domestic violence, moving from homelessness or those leaving care, they can be moving into a property with nothing, into an empty box.
The report finds that furniture provision has a positive impact on the lives of tenants and that it is likely to improve tenancy sustainability. It shows that both social landlords and tenants currently rely on a patchwork of options to obtain essential furniture items, a patchwork that is significantly failing to get furniture to the people who need it the most.
Tenants shared their experiences of living without essential furniture items and the negative impact it has on their social and physical wellbeing, and to their finances, and how it can increase social exclusion.
The interviewees included social landlords who provide furnished tenancies and were able to explain how successful their schemes are, providing furniture for tenants but also producing an income for the organisation.
Claire said: "We hope our report will encourage many more social landlords to create new furnished tenancy schemes to support their tenants and to improve their tenancy sustainability.
"A decade of austerity followed by the terrible impact of Covid-19 has pushed too many families into poverty, and into furniture poverty. Living without essential furniture items has so many negative impacts on people's lives and we are here to support social landlords and help them to set up a furnished tenancy scheme."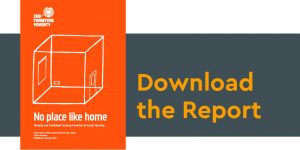 Note: Understanding Society Data
Understanding Society is an initiative funded by the Economic and Social Research Council and various Government Departments, with scientific leadership by the Institute for Social and Economic Research, University of Essex, and survey delivery by NatCen Social Research and Kantar Public. The research data are distributed by the UK Data Service.