Over 6 million people in the UK do not have access to essential furniture, furnishings and appliances, according to research by End Furniture Poverty.
'The Extent of Furniture Poverty in the UK' uncovers the vast scale of furniture poverty across the country, using original data to show how many people are living without the essential furniture items such as a cooker, a fridge or a bed. It shows that 9% of both adults (4.8m) and children (1.2m) are in furniture poverty, with 9 million items missing nationwide.
This report also reveals how furniture poverty affects different socioeconomic groups for the first time. It shows that 25% of all black and black British people are living in furniture poverty, as are 26% of those who live in social housing, and 26% of all single-adult households with children.
Of the 4.8 million adults in furniture poverty, 55% (or 2.6m people) have a disability. The report shows that having a disability makes someone three times more likely to experience furniture poverty.
Claire Donovan, Head of Policy, Research and Campaigns for End Furniture Poverty (EFP), said: "Our research reveals the reality of furniture poverty and confirms what we have long-known. Furniture poverty is widespread and far-reaching; it pervades our communities and disproportionately affects disadvantaged groups. Everyone needs the essential furniture items to attain a basic standard of living and too many people are living without the items that make a house a home."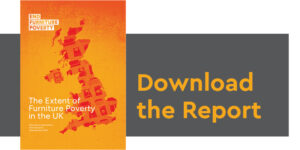 In the webinar below, we go through the report in much more detail.